How Important is a Check-Up & Clean?
Here at Abbotsford dental, we know that life can be busy. We understand the non-stop nature of parenthood, the pressures of a demanding career, and how having a full social calendar leaves you tired, distracted, and even oblivious to your own personal needs. This includes your oral health. It is easy to ignore your teeth and overall oral hygiene by doing the bare minimum of brushing once a day, but sometimes, the need for a dental professional to examine your mouth is something you should consider.
Here's what we look for during a general check-up
Even if your teeth may look and feel 'fine', the following is a list that only a dental professional will be able to examine and thus correct or closely monitor.
Visual checks of soft tissues and surrounding areas – this particular part of the check up includes a thorough examination of the health of your tongue, cheeks, the inside of your lips and the roof and floor of your mouth. Teeth actually only make a small part of your overall oral health, stability, and general function, so our dentists here at Abbotsford dental will be diligent when checking for abnormalities, growths, discolourations or painful swellings that you may have missed.
Charting of your teeth – This is a close analysis of each of your individual teeth. The purpose of teeth charting is primarily to check for decay, but if you have existing fillings or crowns and bridges in place, then these will also be carefully checked during the charting stage to ensure they are sound and healthy and that the teeth around them have no sign of rot or decay.
Periodontal (gum) probing – Gum health is a vital component to your overall oral health. Our dentists will naturally check your gums for any signs of redness or swelling or possible infection. Sometimes, gums will bleed, so a small dental instrument may be inserted between the gum and tooth to check for bleeding, while also measuring the depth of the pockets between your teeth and gums.
X-rays – We have the latest in x-rays and heat imaging technology at Abbotsford Dental, and x-rays are often taken to help your dentist diagnose any problems under or between your teeth that may not be seen during the visual exam.
As you can see, these steps in particular aren't something you can at home, and thus, are reasons why you should be committed to regular check-ups.
There is nothing to fear!
Teeth Cleaning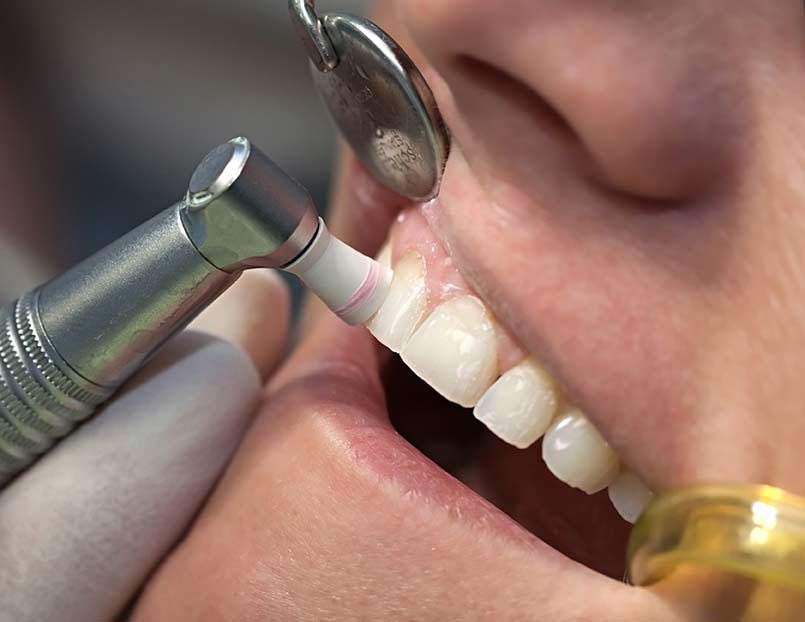 Once one of our dentists here at Abbotsford Dental thoroughly examines your mouth from top to bottom, they will offer you a professional clean and related dental treatment. A dental clean is obviously more effective than simply what you can do yourself at home, and below are the steps involved.
Scaling – Scaling, or 'deep' cleaning, involves removing the tartar deposits, biofilm, and plaque from above and below the gum line. This is done to ensure there are no toxin-releasing bacteria present, which can cause painful swelling and inflammation to the surrounding gum tissue and bone. We don't want that.
Prophy jet polish –it's a unique sounding treatment, but a Prophy Jet Polish is simply a tooth polishing process that aims to remove any residual plaque and coffee or cigarette stains from your teeth.
Professional fluoride application – Fluoride is important in preventing future decay and to reduce the overall sensitivity of your teeth, so we will apply fluoride during this stage.
Preventative advice – After the clean is completed, we want to see your teeth remain as strong and as healthy and as clean as possible. We will offer instructions and professional advice regarding oral care you can do undertake at home, as well as certain diet and lifestyle choices to adhere to based on the results of our examination. Some of the steps we will recommend are as follows:
Using a soft toothbrush when brushing to minimize damage to your gums, and with bristles that are flexible enough to reach hard to reach places
Replace your toothbrush every 3 months to ensure a clean and bacteria-free brush
Brush twice a day, both morning and night
Use toothpaste with fluoride where possible to offer further protection
Floss once a day (even if you don't think it's important)
Ensure you brush your gums and tongue as well, as this will help rid your mouth of bacteria and toxins and things that can ultimately lead to infections and complications
Be mindful of the amount of coffee, wine, and tobacco you are consuming
Again, a dental check up is an important part of any lifestyle to keep you in the best possible shape, and generally, if you have minimal dental concerns and your teeth are mostly free from the nasties we described earlier, we will simply recommend a Continuing Care Program (CCP) – which translates to a 6 month revisit. Time can certainly slip away and things can happen sometimes overnight, but here at Abbotsford Dental, if your oral health is strong and free from infection or possible risk, we encourage all our patients to at least keep a 6 month check-up routine in place to maintain your smile for life and to alleviate the possibilities of problems rearing their ugly head.
What if I need further treatment?
If, during your check up, our dentists identify an issue or suggest a possible treatment plan, your initial feelings may be worry and uncertainty. It's a natural reaction to be told you need further dental work, but if that is the case, we at Abbotsford dental will talk with you, calm you, and always provide a thorough explanation of the process as well as an upfront quotation of the time and cost involved.
There are no secrets or hidden costs in what we do, as our aim is to have you back to full oral and overall health as quickly and as efficiently as possible.
That's why a Dental Check-up & Clean is recommended every 6 or so months. To have a Abbotsford dental professional track your oral habits, in fact, as well as your gum heath and the integrity and strength of your teeth, provides the catalyst of saving both your time and money in the long run.
My teeth are fine, do I really need a check-up?
In short, yes
To the untrained eye, your oral health may appear in good working order, and although you may be vigilant in your dental habits and take the necessary care at home, general brushing & flossing simply isn't enough to remove all the food & plaque from your teeth. Why not have total peace of mind that your teeth and mouth and surrounding tissue is in the best possible shape while under the steady eye of one our of Collingwood dentist? Any early signs of tooth decay and gum disease can be easily averted, which will again, save you some pain and money down the track. If you are still unconvinced of the utility of regular check-ups, clinical research has even indicated inadequate or overlooked oral health can contribute to a greater risk of developing Heart Disease, Respiratory Disease, Cardiovascular Disease, Diabetes, and even Stroke. The importance of a healthy mouth and strong, infection-free teeth and gums, can not be understated or taken lightly, so it is best to book a check-up and clean today at Abbotsford Dental clinic to get the ball rolling.